Lighting up the Kinderdijk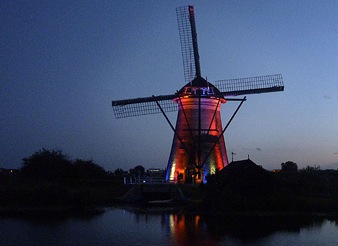 From 7 through 20 September, the 19 historic windmills of the Kinderdijk, on the UNESCO heritage list since 1997, will be lit up with colourful, energy-efficient LED lighting from Philips and installed by Technische Unie. The colours of the windmills will represent different symbols of Dutch history. For starters, this red, white and blue with subtle orange overtones surely represents the Dutch flag and pennant.
Even my own family visited the Kinderdijk when they came to the Netherlands because it was in their guide book as a must. It was touristy, but not busy or crowded and you'll learn a lot about water drainage.
(Link and photo: philips.nl)
No Comments »
No comments yet.