Plight of Senegalese fishermen depicted in classic Dutch play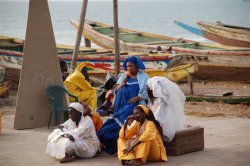 A play set published in 1900 about the plight of Dutch fishermen, which was adapted for a modern context in Senegal, is returning to the Netherlands this month with Senegalese song and dance left intact, and with Marisa van Eyle as a Dutch narrator.
Op Hoop van Zegen (The Good Hope) is a play by Herman Heijermans about the eponymous fishing ship, its owner Bos and the brothers Geert and Barend, who know the ship is not seaworthy, but still sign on as sailors. The brothers then die when the ship sinks during its last voyage. The line "de vis wordt duur betaald" (the fish is dearly paid for), with which Kniertje, the mother of Geert and Barend greets the news of the death of her two sons, has become a saying in Dutch.
The Senegalese version, called Dieuna Diaffe in the Wolof language (Expensive Fish) and with Senegalese star Marie Madeleine Diallo as Kniertje / Yaye Cathy, was performed in 2007 and 2008 in the coastal cities of Senegal. It was adapted by sociologist Maaike Cotterink and directors Anna Rottier and Pape Samba Sow.
According to Cotterink in Trouw (Dutch): "These days, Senegalese fishermen are hired to work three months in a row on Korean and Spanish boats. Far from the coast they are put to work under horrendous conditions for 16 hours a day. Each year fishermen die, but they have little choice, as they have to support their families."
The play will be performed this weekend in Amsterdam as part of the Fringe Festival, and next week in The Hague.
If you are unfamiliar with Heijermans, Archive.org has an English adaption of one of his other plays, The Ghetto.
(Source photo: Theatre Embassy)