In the wake of the 1886 Eel Riots in Amsterdam, Dutch newspapers filled their columns with reports about the event, but it was French magazine l'Illustration that came out with these drawings by M. de Haenen 10 days later.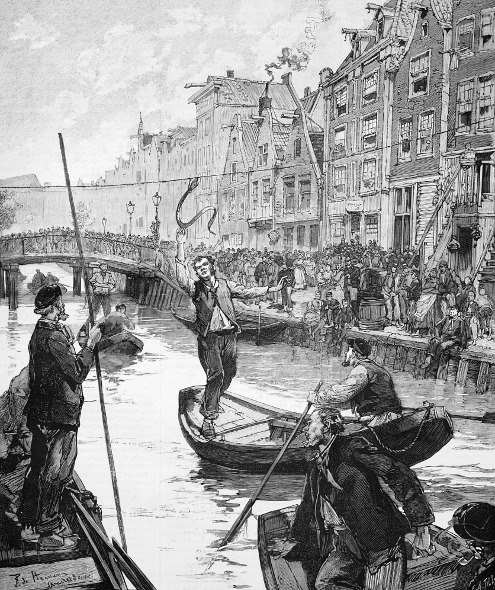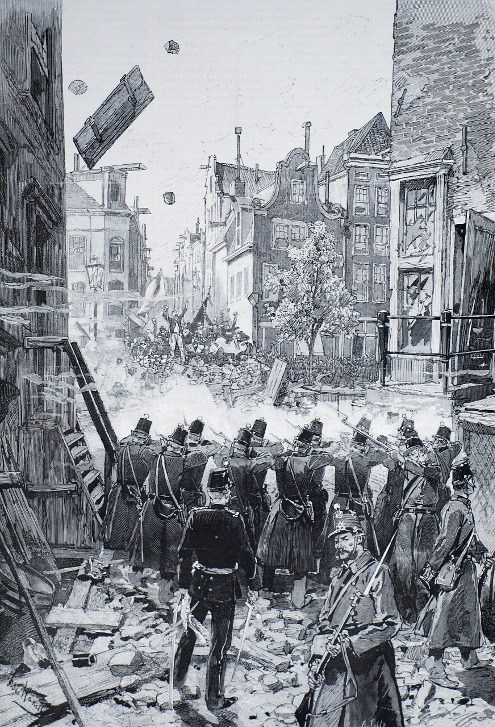 Fait sur place, these illustrations tell the story of the Palingoproer (eel riots), the bloodiest case of Dutch police brutality in the 19th century.
On Sunday 25 July 1886 a great mass of people gathered on the Lindengracht in Amsterdam to watch a cruel spectacle. Fish sellers had tied a rope between numbers 184 and 119 across what was then still a canal and a live eel had been tied to that rope. Men in small boats had to try and pull the eel from the rope—the winner would get the princely sum of 6 guilders, almost a week's wages. This sport was called palingtrekken (eel pulling) and by that time already outlawed.
Four officers from nearby police station Noordermarkt decided to put a halt to the spectacle. They entered one of the houses to which the rope was tied and used a pocket knife to cut down the rope. Apparently the rope hit one of the spectators who started thwacking the police with his umbrella as soon as they left the building. Fast forward a couple of hours and a full blown riot was going on with police using their sabres and rioters throwing pavers.
Nightfall came and a drizzle helped to cool tempers. The next day, however, rioters stormed the police station which led to the army getting out their guns. As soon as the smoke had cleared (smokeless powder had only been invented two years earlier and was being introduced slowly to European armies), 26 rioters lay dead and observers (reporters, essayists, historians) started to explain what it was that just had happened.
Right-wing rags Algemeen Handelsblad and NRC, and the mayor of Amsterdam, tried to blame the socialists for being the instigators, but the public prosecutor thought that conclusion was preposterous—royalist inhabitants of the nearby Willemsstraat had even thrown red and black flags into the canal that the socialists had quickly brought to the scene of the riots.
Two thousands rioters were given prison sentences, police officers were treated to cigars and in 1913 the eel that involuntarily started it all showed up at an auction where it was sold for 1,75 guilders and was never seen again.
(Images: VKTV.nl / M. de Haenen)