HEMA ready for end-of-Ramadan feast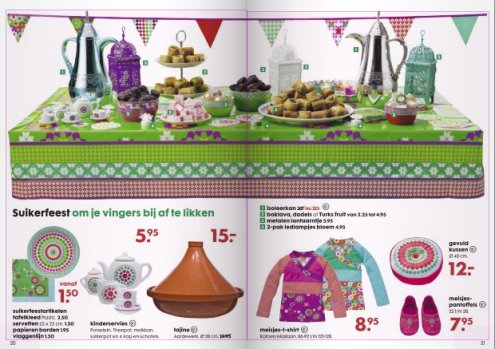 This is an ad aimed at people celebrating Eid ul-Fitr (known in Dutch as Suikerfeest), a feast that marks the end of the Ramadan (the Muslim fast), which appeared this week in the brochure of HEMA, a large and popular Dutch chain store.
I have never seen this type of advertising before, where a Dutch mainstream brand specifically addresses 5% of the population who are part of an Islamic culture, but what do I know? The commenters at Wij Blijven Hier, where I found this story (Dutch), seem to confirm my guess that this is a new thing though.
A couple of years ago, new media organisation Mediamatic.net tried to merge the HEMA with the Islamic design aesthetic in a project called El HEMA. The real HEMA first frowned at this clear misuse of their brand, but they soon turned around, even offering to take place in the jury of the related design contest. A commenter at Mediamatic's site makes clear the importance of HEMA in defining and contrasting what we perceive of Dutch culture:
You enter a space where you cannot read a single letter, and yet you think: what do you know, I am at the HEMA. And even though you cannot read the price tags, you are sure the products cannot be expensive. After all, you are at the HEMA.
2 Comments »
Smart move. Providing muslims a place in consumer society is probably the best means of assimilation. And seeing how the Dutch are historically quite enterprising, this should be a snap.

I suggest that halal cosmetics start being marketed heavily. If you can get the women, the men will fall in line. It's true!

Comment by Darth Paul — September 11, 2009 @ 6:47 pm

[…] in 2009 HEMA celebrated the end of Ramadan, which happens to be today for the Moroccan community and was yesterday for the Turkish commumnity […]

Pingback by 24 oranges » HEMA chain up for sale — September 10, 2010 @ 10:53 am