HEMA essential brand, followed by 8 o'clock news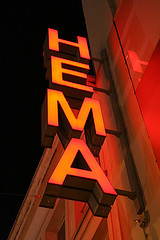 The Dutch cannot part with their HEMA department stores, a recent EURIB study revealed. Some 81% of the population thinks the cheap retailer with a sense for design is indispensable. The number two and three positions are taken up by Blokker (housewares) and Kruidvat (cosmetics). Among men, NOS Journaal—the state-run TV news show—took the top position (77%), among women HEMA leads (91%), with Pickwick (tea) taking second place.
The researchers determined three factors that could explain the indispensability of a brand:
Consumers see a brand as a part of Dutch culture
Consumers can interact with the brand
Consumers are exposed to a brand on at least a weekly basis
I think HEMA's perceived indispensability is caused by the fact that nearly everybody buys their underwear there. Ipso facto, the Dutch are an underwear wearing people. Free scientific analysis from the 24 Oranges' towers, there ya go.
The study (Dutch, PDF) can be downloaded at the EURIB website.
See also:
Via Blik op Nieuws (Dutch). Photo by Hans Vandenbogaerde, some rights reserved.
4 Comments »