First national footgolf championship held in Nijmegen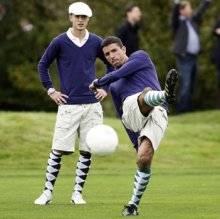 Argyle socks and knee-length shorts, those are apparently part of the dresscode for footgolf, a sport invented by advertising agency Nothing.
Last weekend professional football player Theo Janssen won the first national footgolf championship at the Rijk van Nijmegen golf course, beating his fellow FC Twente attacking midfielder Kenneth Perez. Other participants included PSV striker Danny Koevermans, local boy Roy "the phantom" Makaay and Pierre "Pi-Air" van Hooijdonk.
A wary press, realising the joke might be on them (the jury is still out) covered the event, including public broadcaster NOS:
The sport is just like golf, with the exception that you play a football instead of a golf ball, and you use your feet to play it.
Apropos 'Nothing,' the company's website explains that the name describes the space where ideas come from, but I cannot help but notice that it also neatly covers the emperor's wardrobe.
(Photo: Roy Makaay teeing off, source NFGB.)
1 Comment »
This should get far more credit and recognition than air guitar, but I'm not dutch…so maybe my priorities are misplaced.

Comment by Darth Paul — September 14, 2009 @ 7:12 pm