Alcoholics wanted as tour guides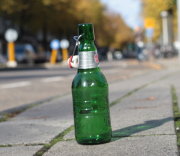 A tour company in Amsterdam claims it wants to hire alcoholics as guides, writes Z24 (Dutch).
Amsterdam Excursions believes that habitual drunks know where to find the bars for its tour of Amsterdam watering holes. In order to test suitability the company lets applicants fill out a questionnaire, open a beer bottle without an opener, and do a breathalyser test.
So far it appears only people who drink in the street or quietly at home have shown up, not the 'kroegtijgers' (bar flies) the tour company was hoping for.
This is the same company that organized an economic crisis themed tour.