Drinking wine by numbers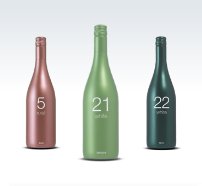 Picking a wine if you have no idea what you are doing can be a painful process, especially if you have only the bottle's label to go by. To reduce 'choice stress', 94wines.com has taken every last bit of confusing information from the bottle and put a number in its place. If you liked the 51 last time, you know you should buy it again. If you didn't, you know to leave that number alone the next time.
I am sure true wine connoisseurs will be outraged by the idea of objectifying wine, but hey, it's the naughties, baby, at least for one more month.
A short online wine test should help to get you underway for the first purchase by determining the basic flavours you want. Young marketing buffs Lucas Tieleman and Sander de Jonge came up with the whole concept.
(Source photo: 94wines.com. Link: De Pers.)
1 Comment »
[…] matching it up with food, wine fans keep telling me. Despite the lack of proper tasting and buying wine by numbers instead of actually being interested in pesky details like regions and vines, Dutch business people […]

Pingback by 24 oranges » Gay wine: bad taste or good marketing? — January 6, 2010 @ 4:18 pm