Gay wine: bad taste or good marketing?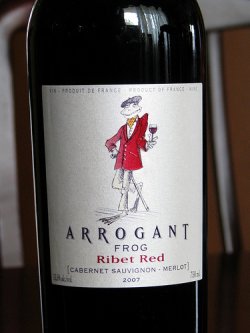 Slowly but surely Dutch consumers are grasping the idea of enjoying wine and matching it up with food, wine fans keep telling me. Despite the lack of proper tasting and buying wine by numbers instead of actually being interested in pesky details like regions and vines, Dutch business people have tons of creative ways to get people drinking wine without thinking too hard.
That said, the idea of a 'Chardongay', which isn't even a Chardonnay but a mix of Chenin Blanc and Colombard, while the red version (getting confused now) is straight Cabernet Sauvignon, pun intended, just sounds, well, blah. Vinamis, the company who thought this up apparently couldn't find an acceptable cheap Chardonnay (bless you). And since we're driving through cliché-ville, what about a rosé? It's coming out later, as well as the bubbly.
I think it's a slightly funny idea that is akin to drinking Arrogant Frog wine (see photo). It leaves lesbians out in the cold because hey, they don't drink anyways (cliché) and the wine is going for the funny name. But, OK Arrogant Frog isn't that bad and it's cheap.
(Link: telegraaf.nl, Photo of Arrogant Frog wine by Martin Ujlaki, some rights reserved)
1 Comment »
Not offensive, just trite and encouraging of ignorance where wine is concerned.

Comment by Darth Paul — January 6, 2010 @ 8:14 pm