Today's kids reflect bad values, parents to blame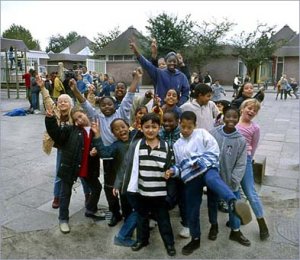 Last year around this time, we wrote about Dutch kids being happy because they're egocentric and in 2007 some Dutch mothers I know justified giving up work and career by pointing out that Dutch children are the happiest in Europe. If you read these two articles, you'll see that parents teach them to be hedonistic and not take others into consideration and that children almost rule the family. I'm not saying this is true, but where there's smoke, there's fire.
However, it's terribly easy to pick on young people because they're growing up with more choices, technology and social pressure that previous generations. Hell, the pornography and sex they are exposed to considered normal in advertising and videos (hypersexualisation) scares me as an adult. Having more choices is bad because it makes choosing more difficult. And then mom gave up working just to take care of you and dad is burning out to keep it all together for you as well. That's a lot of guilt to handle. I'd run out and put my iPod on loud too to drown that out.
Since the 1970s in the Western world, youth have always been called greedy, selfish and whatever, so that's nothing new. Lack of respect for authority, well, even the authority here has a lack of respect for others and themselves, saying they don't have the power to do whatever needs to be done and police letting people go because they can't be bothered. And why would kids obey their parents or even their teachers if their parents and the schools let them walk all over them? Why should they try any harder if there are no consequences to their actions? And we're back to turning up the iPod really loud.
(Link: nrc.nl, Photo: Dutch Ministry of Foreign Affairs)
8 Comments »