Loyalty schemes yield higher rewards than savings accounts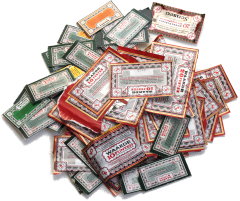 Z24 points out that collecting so-called supermarkt saving stamps can yield a considerably higher interest rate than even the best savings account at a bank.
Plus supermarket has an advantageous scheme where every two euro put in gets you three euro in return.
Saving stamps schemes work by letting consumers buy stamps for every euro of groceries bought. These need to be pasted onto a card, and once the card is full, it can be exchanged for cash. Plus' generosity is easily explained, as they will let you only buy 2 cents' worth of stamps for every euro you spend on groceries.
Albert Heijn has a scheme where you can get a 10 cent stamp for every euro you spend, and after 490 stamps you can exchanged your card for 52 euro. That is a 6% interest rate, paid out after only two or three months of shopping for a single person household.
Recent changes to Dutch tax law included a tax on property of about 1%. Interest on savings accounts these days (typically between 1 – 3%) is so low that it doesn't even counter inflation. Z24 suggests that supermarket savings plans are therefore much better, because not only do they use higher interest rates, they also represent cash and therefore stay under the radar of the tax man. The argument is silly though, as property tax is only paid over property additional to the first 30,000 euro you own, whereas saving stamps will typically only account for a couple of hundred euro each year.
The Dutch are eager participants in loyalty programmes. Here are some of the things we participate in:
Spaarzegels (saving stamps), outlined above.
Spaarpunten (points), schemes like Airmiles, where you save for products you can get from a catalogue. In some schemes, having enough points will get you stuff for free, in others they will merely help reduce the price of a product, typically used by both supermarkets and brands.
Coupons, vouchers distributed in magazines or news papers, where you can get money off of specific products, usually for a very short period (like one or two weeks). Used by all kinds of stores.
The only scheme I ever participated in was one by a local supermarket chain called Groenewoud, where you got free points for every purchase, and after you had collected enough of them, they gave you a plant. Exactly my speed.
What loyalty programmes are popular where you are?