AEX CEOs mostly graduate from Rotterdam and Delft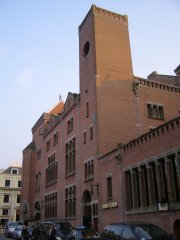 If you want to become a CEO or a supervisor of one of the 25 Dutch companies that make up the AEX, the index of the country's most actively traded securities, you'd better study economics in Rotterdam or civil engineering in Delft, Z24 reports.
Together, both universities have produced the majority of current CEOs and supervisors of AEX companies. The oldest university of the country, that of Leiden, and the largest universities, those of Amsterdam and Utrecht, play lesser roles in supplying large Dutch companies with their management. Fifteen of the 25 CEOs are graduates of either Rotterdam (8) or Delft (7).
(Photo of the Berlage stock exchange by Flickr user Taver, some rights reserved)
No Comments »
No comments yet.