Unemployment agency prosecutes entrepreneurs for working too hard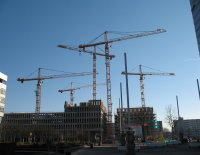 UWV, the Dutch unemployment agency, is suing and sometimes prosecuting formerly unemployed people who followed UWV's incorrect advice on how to report earnings. The victims participated in a scheme active from 2004 to 2006 in which they could start a company while still receiving benefits.
UWV's argument revolves around the criterion for the amount of hours worked. Originally, the agency only counted billable hours, but since then it has started counting all hours that one puts into a business. UWV found discrepancies between what entrepreneurs reported to them and to the tax service. As databases of governmental agencies are linked, and the tax service gives single person companies certain breaks depending on the amount of hours they put in, it was easy for the agency to figure out the differences in hours reported.
NRC reports that people who have only recently recovered from unemployment have received fines as high as 50,000 euro, with an average of 15,000 euro. Ronald van der Krogt of union FNV says that as much as 42% of all participants in the reintegration program applied the rules incorrectly, in hindsight. "Allegedly those people are all frauds. You cannot maintain such a thing with a straight face. If that is the rule, then the rule is wrong. UWV are failing big time."
Judges' hands appear to be tied. A ruling from 1996 found that UWV's most recent interpretation of the law is the correct one. (Which by the way strikes me as odd, since the reintegration program is a much more recent affair.) This means that even sitting at the office and reading a paper or picking your nose would have gotten you branded a fraud if you forgot to report those hours as work.
UWV has said it will take FNV's complaints very seriously.
(Link: Geen Commentaar.)
2 Comments »
[…] Donner of the department of Social Affairs has been told by parliament to re-open the cases of unemployed entrepreneurs who were accused of fraud and sometimes prosecuted for it by UWV, the same organisation that had been feeding them false […]

Pingback by 24 oranges » Angel of Death, unemployed prosecuted, Superbus – updates — March 27, 2010 @ 1:29 pm

[…] while back we reported about a mistake the Dutch unemployement insurer UWV made in which 3,000 formerly unemployed entrepreneurs had—often accidentally—committed […]

Pingback by 24 oranges » State unemployment insurer mistakenly persecuted customers — June 13, 2011 @ 8:45 am