Angel of Death, unemployed prosecuted, Superbus – updates
Here are some interesting updates of past 24 Oranges stories.
* Lucia de Berk, the serial killer seemingly convicted on the basis of flawed statistics, received some good news today. Now that her case has been re-opened, the public prosecutor has asked the court to free her and drop all charges against the former nurse.
In 2004 De Berk, nicknamed Angel of Death, received a life sentence for seven murders and three attempted murders of patients under her care. Rather than proving murders had taken place, the prosecution shopped for natural deaths that could pass for suspicious, and if it turned out that De Berk had been working when the alleged victims died, added them to its list. After statisticians brought their objections to this method to public attention, the supreme court decided to let a lower court re-open the case.
The verdict has been announced for April 14.
* Minister Donner of the department of Social Affairs has been told by parliament to re-open the cases of unemployed entrepreneurs who were accused of fraud and sometimes prosecuted for it by UWV, the same organisation that had been feeding them false information that led to this 'fraud' in the first place.
The accused were participating in a work re-integration programme that allowed them to set up their own companies while still receiving benefits during the incubation phase. They received benefits for the difference between hours worked and hours available for work, where UWV initially defined 'hours worked' as 'hours billed.' However, the law says that non-billable hours also count as 'hours worked.'
UWV (formerly known as GAK) is a private institute that is tasked with distributing unemployment benefits under the supervision of Donner's department. When the minister pointed out that opening dossiers of already convicted felons was 'impossible,' that only seemed to rub parliament the wrong way, according to NRC.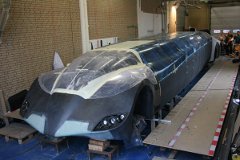 * The Delft students that designed the eco-friendly Superbus are currently building a working prototype. In 2009, after extensive testing on a track, the chassis was built (see image).
The Superbus is a 15-metre-long vehicle that fits 23 passengers. It drives over a dedicated, cheap, concrete lane and doesn't use bus stops. Instead, prospective passengers indicate where and when they want to board, and presumably the driver caters to these wishes. The Superbus is electrically powered, using lithium polymer battery packs and regenerative braking. Its top speed is 250 kilometres per hour (155 mph). Top Gear, are you reading this?
(Source photo: Superbus)