Joris Laarman's solo exhibition in New York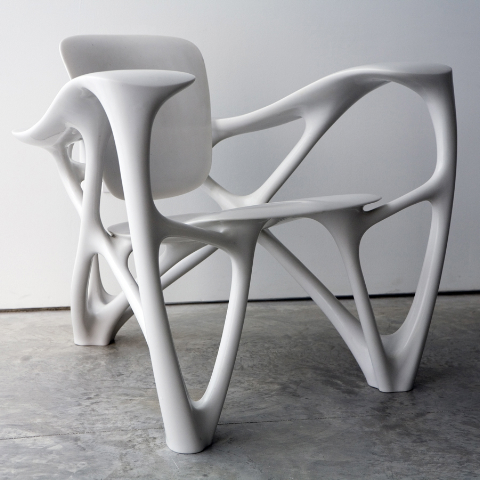 Says Dan Schwartz:
In 2006, Laarman's Bone Chair revolutionized the design process by using an algorithm to translate the complexity, proportion and functionality of human bone and tree growth into a chair form. The algorithm, originally used by the German car industry, enabled him to reduce and strengthen his designs by optimizing material allocation, weight and stability, while minimizing material input. In his own words, he sculpted "using mother nature's underlying codes."

The upcoming exhibition is the culmination of five years of trial and error, exploratory material research and his continuous quest to translate science into functional objects of beauty, now on a monumental scale. His new body of work expands on his core investigations; it includes Skyline Storage, Fractal Bookshelf, Stair Cabinet, and Half Life Lamp, a sustainable lamp made from living cells.
The upcoming exhibition will start March 4 at Friedman Benda in New York.
See also: WirePod by Joris Laarman.
(Source image: Susan Grant Lewin Associates)
2 Comments »
Thanks for the heads up on this!

Comment by Alex — February 18, 2010 @ 8:07 pm

[…] in 2010 we wrote about Joris Laarman's solo exhibition in New York featuring 'bone […]

Pingback by 24 oranges » Supportless, magical 3D printing of metal — March 11, 2014 @ 7:42 am