Catawiki, personal catalogue, wiki and shopping website in one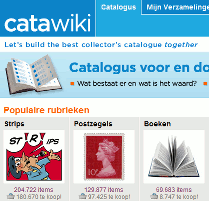 Last week the readers of Belgian online magazine Netties, an early supporter of Wikipedia, voted Catawiki the Best Website in the Dutch language.
Catawiki is what you would get if you merged Librarything, an online personal library catologue, with eBay, and squared the result. It was founded in 2009 by René Schoenmakers and Marco Jansen, who bought an existing Flemish comics database with 110,000 entries to get started. Later catalogues for stamps, coins and telephone cards were added. The site bills itself as the catalogue for and by collectors.
Although Catawiki can be used to just show the world which books, comics and even barf bags you own, you can also use it to sell items.
(Link: Eamelje.net.)