Crowdfunded book agent tenpages.com wins Accenture Innovation Award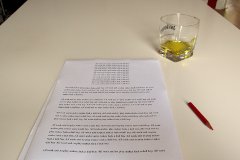 Last Tuesday tenpages.com, a website that letd readers buy shares in upcoming books based on their first ten pages, won the Accenture Innovation jury Award 2010. The audience award was given to Catawiki, the personal-library-manager-meets-ebay.
Tenpages.com works something like this:
A writer writes the first ten pages of their book and posts them to the website.
The writer then tries to convince 2,000 people to buy a 5 euro share.
A renowned publisher has the option to commit to the book.
Once all shares are sold, the author gets 1,000 euro and the publisher 9,000 euro.
Presumably at some point, a book is published.
It looks to me like this could go one of two ways. On the one hand, this could finally free authors from some of the iron grip traditional publishers have, and on the other, this could turn into a vanity press scheme on speed. The safeguard against the latter scenario is that the publishers involved so far all have a reputation to live up to and we all know that serious publishers would never throw their good name away.
See also: Public Enemy to produce next album through Sellaband
No Comments »
No comments yet.