Half a billion euro's worth of unclaimed guilders floating around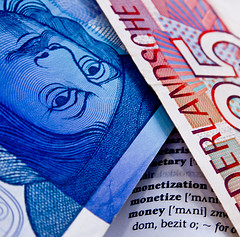 Before the euro was introduced as a pan-European currency in 2002, the Netherlands used the venerable guilder.
Until 2006 citizens could still exchange their guilder coins and bills for euro. The deadline for trading in guilder banknotes is 2032, and the Dutch national bank (DNB) estimates there are still about half a billion euro worth of guilder bills floating around.
According to Z24, DNB bases its estimates on the missing banknote numbers. About 24 million banknotes are still to be traded in.
See also:
* Rules for trading in guilder bills (Dutch)
* Oxenaar exhibit in Museum for Communication, The Hague
(Photo by Robin Papa, some rights reserved)