Rescue of a drowning tourist in Amsterdam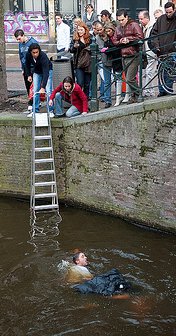 Marien van Os was walking with his camera through Amsterdam when he heard a big splash. Turned out a drunken tourist had jumped into a canal. Van Os photographed the ensuing rescue by Erik Blom and other bystanders.
(Via Making Light. See also: interviews at AT5. Source photo: Flickr / Marien van Os.)
No Comments »
No comments yet.