One million euro to research eating bugs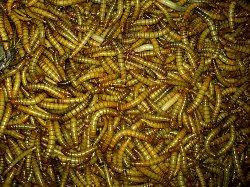 Our current governement is on its way out, and there are elections in early June. This means no major decisions can be taken, and it's more about tying up loose ends and cleaning out desks. But hey, let's stir things up and give one million euro for research into eating bugs. Nom!
For the next three years, the Wageningen University & Research Centre gets to research which insects are worth eating. And then, the clichés: scientists say they're just as good for you as meat, it's good for the environment, and also my favourites, people in Asia and Africa eat them, they're good with chocolate (bye bye health argument) and so on.
Why not just ask the Asians and Africans for recipes and/or their research instead of throwing all that money out the window? No, wait, why not start a marketing campaign to eat bugs? Wait, we don't eat bugs, and unless we totally run out of food, we're not going to consider eating bugs any time soon.
I grew up near one of the only, if not the only place where you can gawk at insects and then eat some: the Montréal Insectarium. If only they did that at the farm with burgers. Or maybe fast food chains should sell bug burgers. Nom!
(Link: telegraaf.nl, Photo of Worms by Wahj, some rights reserved.)
No Comments »
No comments yet.