Football players wanted for September polder cup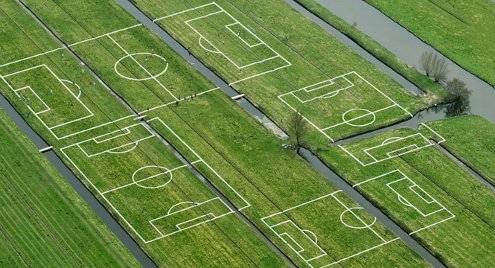 Spanish artist Maider López is organising a football tournament on September 3 and is looking for both participants and an audience.
The tournament called Polder Cup will take place on the pastures of Ottoland in South Holland, halfway between Utrecht and Rotterdam. Contestants will be given food, drink and swag all for coming out to the middle of nowhere (using the charter bus of the project) and having their picture taken.
What's the catch? Is there a catch? There is always a catch! As you can see in the photo, the pitches will be drawn across drainage ditches, and the players are expected to come up with their own rules and methods for dealing with these hazards. If you want to know beforehand how to fish a ball from a brook, check out Hans van der Meer's photo book on Dutch football pitches. As for crossing ditches, see here.
(Link: Bright. Photo: poldercup.nl.)
1 Comment »
Have them play by water polo rules in the drink and football rule on th pitch.

Comment by Neil — June 1, 2010 @ 6:10 pm