E-book pioneer iRex files for bankruptcy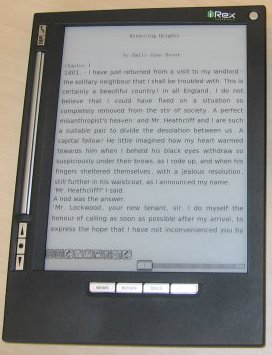 In 2006 I borrowed Orangemaster's camera, hopped on the train to Eindhoven, and visited a start-up at Philips' famous High Tech Campus to look at its single, yet to be released product, the Iliad e-reader. Today I learnt through newspaper FD that the former start-up Irex has filed for and received bankruptcy (Dutch).
The Iliad was an E Ink based tablet computer suited mainly for reading, hence the name. At the time, only Sony had a comparable device, the Librié.
Irex's goal was to replace paper, not necessarily to compete with similar e-readers for consumers. To that effect, its reader had a larger screen and it could also be written to using a stylus. The company left selling books to third parties, expecting content providers to bundle the Iliad with their products. The intended customers for the device weren't novel readers, but students, lawyers and others used to toting around kilos of text books and note pads each day.
Later, Irex also turned to the consumer market, where it had to compete with the Kindle, the Apple Ipad and the newer Sony devices, and even the Bebook, another Dutch brand of e-reader. Apparently, trying to introduce its latest consumer device in the USA is what broke the camel's back. Disappointing sales due to a late FCC approval (only after the Christmas season) meant that Irex's cash flow dried up,
The good news is that besides its cash flow problem, Irex is apparently in good health, and has a lot of intellectual capital. The type of bankruptcy that they have filed for and received last Tuesday, called surseance van betaling, does not mean the end of the company but merely a temporary stop of its obligation to pay bills. Irex owes more than 5 million euro, mostly to Deutsche Bank. FD reports in a follow-up article that lots of other companies are interested in buying the outfit.
See also: