Sports park lit up entirely with LED lighting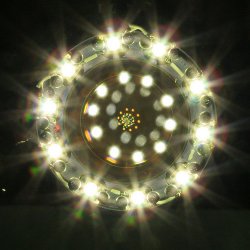 As of September, a sports park in Eindhoven (three football pitches, four tennis courts and the rest of the place) will be entirely lit using LED lights, made popular in its mordern-day version sometime around 1999 by Dutch firm Philips, headquartered in Eindhoven.
Local newspaper Eindhovens Dagblad claims that this is a world first, as they couldn't find anyone else who did this. LED lighting is much less energy consuming that regular lighting, up to 60% according to measurements quoted in the newspaper.
(Link: nuzakelijk.nl, Photo of LED lighting project by Velo Steve, some rights reserved)