Cannabis scratch and sniff cards to sniff out illegal plantations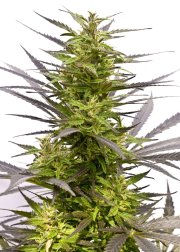 Contrary to the myths about the Dutch and marijuana, the authorities will let you own five plants even though it is technically illegal. Professional illegal growers usually have hundreds of them and then they really do give off a smell. To try and find these plantations Dutch authorities have apparently been handing out 30,000 scratch and sniff cards in The Hague and Rotterdam with a marijuana odour this week to alert citizens to what their neighbours may be up to. "Though it remains technically illegal, the Netherlands decriminalised the consumption and possession of under five grammes (0.18 ounces) of cannabis in 1976 under a 'tolerance' policy."
Authorities believe there are some 40,000 illegal cannabis plantations in the Netherlands — hidden away in attics, apartments or warehouses. About 6,000 plantations are busted every year.
Of these about 300, each with between 600 and 1,000 plants, were uncovered in Rotterdam alone.
This reminds me of our posting about a German woman who complained that it "smelled like Amsterdam" at the neighbours. Another rookie myth is that Amsterdam has the coffeeshops and the pot, but in fact, pot, much like prostitutes, can be found throughout the entire country.
(Link: google.com, Thanks Greg! Photo by Eric Caballero, some rights reserved)
1 Comment »
[…] The city of Heerlen, Limburg plans to hand out scratch and sniff cards smelling of marijuana to residents so that they help discover illegal marijuana nurseries. It's not a new idea, back in 2010 we told you about cannabis scratch and sniff cards to sniff out illegal plantations. […]

Pingback by 24 oranges » Marijuana scratch and sniff cards for Heerlen — June 7, 2013 @ 11:38 am