Bra helps control cleavage wrinkles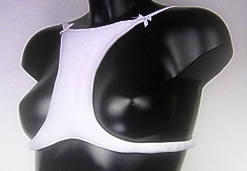 Dutch inventor Rachel De Boer had wrinkels in her cleavage at an age when women don't usually have them, and decided to come up with a way to get rid of them.
Her bra, called La Decollette (in Dutch, 'cleavage' is 'decolleté', from the French 'décolleté'), is now being sold in about 100 lingerie shops in the Netherlands. It's not a bra you wear during the day, it's something you wear at night to keep your breasts apart, tightening the skin in between. It's not sexy to go to bed with, granted, but if we can believe the results and the news item on telly, it makes a real difference.
I had heard of breast pillows that do the same thing, but this product obviously looks different and more confortable.
Necessity remains the mother of invention. I tend to just stay out of the sun like an 18th century European aristocrat.
(Links: telegraph.co.uk, Photo: decollette.nl)