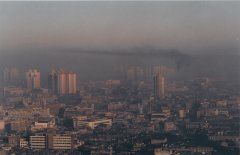 At the two-day Offshore Energy 2016 Exhibition & Conference in Amsterdam this week, the Dutch Envinity Group from Den Helder, North Holland unveiled what they called "the world's first giant outside air vacuum cleaner", a large purifying system intended to filter out toxic fine particles from the atmosphere around the machine.
The system is said to be able to suck in air from a 300-metre radius and from up to seven kilometres upwards. It can treat about 800,000 cubic metres of air an hour, filtering out 100 percent of fine particles and 95 percent percent of ultra-fine particles, the company said, referring to tests carried out by the Energy Research Centre of the Netherlands (ECN) on its prototype.
Fine particles are caused by burning wood and other fuels as well as industrial combustion, adversely affecting our health, according to the European Environment Agency. As well, about 90 percent of EU residents are exposed to levels of such particles, which can cause cancer.
On a much smaller scale, there's also the smaller air-purifying system called the 'Smog Free Tower' that was installed in Beijing last month by Dutch artist Daan Roosegaarde.
(Link: phys.org, Photo of a particulate polluted Shanghai sky by Wikimedia Commons user Saperaud, some rights reserved)