Fathers of young children prefer part-time jobs too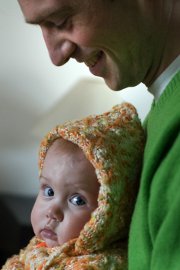 Women with partners prefer part-time jobs, we wrote last year. In fact, 50% of all Dutch women already have a part-time job. And dads want in on that action. According to the New York Times (via the Deccan Herald), one in three men either work part-time, or work four nine-hour days:
For a growing group of younger professionals, the appetite for a shorter, more flexible workweek appears to be spreading, with implications for everything from gender identity to rush hour traffic.

There are part-time surgeons, part-time managers and part-time engineers. From Microsoft to the Dutch economics ministry, offices have moved into 'flex-buildings', where the number of work spaces are far fewer than the staff who come and go on schedules tailored around their needs.

The Dutch culture of part-time work provides an advance peek at the challenges — and potential solutions — that other nations will face as well in an era of a rapidly changing work force.
Radio Netherlands wonders if society's demand that fathers take a more active role in the upbringing of their children will lead to new Super Dads. Surely men will have to spend more than just one Daddy Day with their children to earn that moniker? When the term was applied to women, it meant women with two full-time jobs: one at home, and one at the office. It seems that even in the gender equality debate, a man gets the same reward as a woman for less work.
(Photo by Eelke Dekker, some rights reserved)