Former football super star Ruud Gullit becomes dictator's coach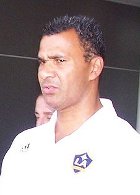 Say you've been a FIFA footballer of the year twice and have made a name for yourself as a dedicated anti-racism activist, so much so that president Nelson Mandela himself awarded you South Africa's Order of Good Hope, and Bono and Mother Teresa have started looking nervously over their shoulders—which is an impressive thing to make Mother Teresa do, since she's been dead for a good while. What, then, would be your next move?
Ruud Gullit answered that question by becoming a lackey for one of the worst dictators on the planet, Howlin' Mad Ramzan, or as the man prefers that people address him, 'King Ramzan'. De Pers report that earlier this month Gullit signed a year and a half contract to become head coach of FC Terek Grozny, the personal football club of Moscow's puppet ruler of unruly Chechenya, Ramzan Kadyrov.
Kadyrov is not one to take criticism lightly. He is the son of former Chechen dictator Akhmad Kadyrov and has a reputation for violence. "The word opposition is unimaginable," he once famously said. And he doesn't just stick to words, as he has a reputation for killing everyone who opposes him. Unfortunately for the Chechen people, everybody on the long list of people who have claimed to have evidence of Kadyrov's misdeeds have so far met with lethal 'accidents'.
(Photo of Ruud Gullit by Hamedog, some rights reserved.)