Hamsters were not really mistreated, says judge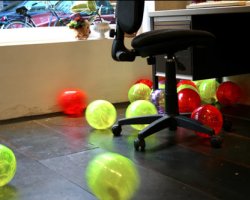 Kunstenares Tinkebell (Katinka Simonse) has been found not guilty of mistreating 95 hamsters. Back in 2008 the Society for the Protection of Animals and the police raided one of her exhibitions to free dozens of hamsters. The hamsters should only have been stuck in their balls for 30 minutes (apparently recommended) and in this case were stuck in them for four hours.
Since the judge and an Artis zoo vet could not determine whether the hamsters where in danger or not, Tinkebell got a fine of 950 euro, with 450 euro as a 'suspended fine'. The gallery owner is also in the clear.
(Link: rtl.nl, Source image: Empathy.)
5 Comments »