Helicopter cat Orville goes up in value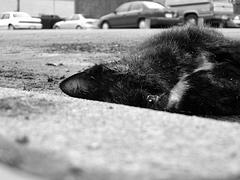 Artist Bart Jansen didn't kill his cat Orville, a car hit him. Then he stuffed it in an unconventional way and turned him into a remote-controlled flying cat. Jansen had originally asked € 12,500 for his work of art, which was on display in Amsterdam at the KunstRai art fair until last Saturday. "The work has not yet been sold but we have an offer of € 100,000 on the table," Jansen's dealer Geoffrey van Vugt told Dutch newspaper De Volkskrant.
Cat brother Wilbur, both named after Orville and Wilbur Wright (aka the Wright brothers) is just a regular Dutch cat eating cat food made from other dead animals who obviously had a worse life, Jansen mentioned to the press.
It's a tribute to the cat Orville, that was named after the famous aviator Orville Wright. After the cat was killed by a car, and followed by a period of mourning, visual artist Bart Jansen transformed him into the Orvillecopter: Now he is finally flying with the birds. The greatest goal a cat could ever reach!
You may choose to dislike Orville for all kinds of reasons — it's pretty freaky! — but saying he killed his cat is utter nonsense. Last year Dutch conceptual artist Tinkebell was found not guilty of animal cruelty for an exhibition with 95 hamsters in exercise balls, while she had killed her 'depressed' cat and turned it into a handbag.
It will always be hypocritical to believe that some animals deserve to die for our use (pigs, cows, chickens) and get upset at cute pussy cats flying around because cats are cute and pigs are bacon. Hate Orville the Flying Cat, but Bart Jansen didn't do anything wrong or even illegal. In fact, he's honouring his cat in his own freaky way, whether we like it or not.
For anybody who needs an ethical reality check, the real dead people show Bodyworks (even more controversial) is still on in Amsterdam until 17 June and nobody is whinging about that anymore — and they used to. It was on at the very same time and not very far from the Art Fair where Orville was flying around until last Saturday.
(Link: www.dutchnews.nl, Photo of Dead cat by ndanger, some rights reserved)
3 Comments »
Pigs are more than just bacon: https://www.24oranges.nl/2009/09/20/made-from-pig/

Comment by Branko Collin — June 6, 2012 @ 2:35 pm

[…] Bart Jansen was the artist behind helicopter car Orville. […]

Pingback by 24 oranges » Famous bird snuffs it at the art fair — May 18, 2013 @ 9:26 am

[…] artist Bart Jansen first made the helicopter cat from his deceased pet cat Orville, which seemed predestined to fly. His project caused much […]

Pingback by 24 oranges » After the flying cat comes the badger submarine — February 2, 2015 @ 11:40 am