Van Deyssel had his staff read out his phone calls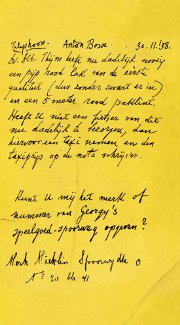 Mr Alberdingk Thijm (1864-1952) thought using the newfangled telephone was a little too banal for his taste. When he wanted to talk to someone, he wrote down what he wanted to say, and then let his personnel read out his notes over the phone.
His biographer Harry Prick* kept these notes, and they have now been turned into an audio book by Rubinstein titled Telefoonbriefjes (narrated by Arend Jan Heerma van Voss). Alberdingk Thijm, a novelist publishing under the name Lodewijk van Deyssel, used his technique to great effect:
To mrs. S.C. Mulder (21-12-1940): "At the tea enjoyed at your house today there were: tea, sugar, milk, orange juice, demi and triple sec, liqueurs […], and a deep plate of red porcelain with pralines, candied ginger, and all kinds of candy. Perhaps this tea would be worthy of repetition on December 30."
And…
To Anton Bosse (39-11-1938): "Mr. Alb. Thijm requires a pipe to be delivered right away, which must be of red lacquerware and of the best quality (i.e. without black in it), and also a 5 metre long red packing tape. If you have no bicyclist to deliver at this moment, hire a cab and add the cab fare to the bill.

Can you tell me the brand name or number of Georgy's toy railroad?"

(Reply: brand Märklin, width O, number see page 41.)
Van Deyssel belonged to a literary movement called the Tachtigers. His novel Een liefde (A Love) was considered pornographic at the time, and its reception was mixed.
(Link: Holly Moors. Illustration: Bol.com / Van Deyssel.)
*) Yes I know, ha ha. Maybe that is why he always used his initials.