Children's carnival parade in Heerlen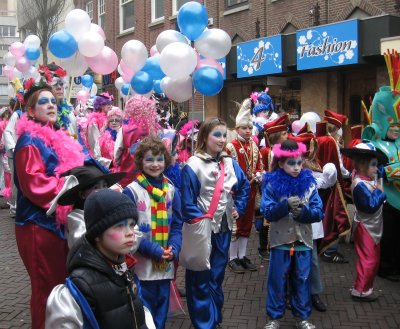 It's carnival time again in the South provinces of the Netherlands and yesterday in Heerlen, Limburg they had their children's parade with parents, prams and princes. The red-green-yellow scarf that doesn't match the rest adorns the carnival colours, a must have for many.
Besides a good story I wanted to know if the kids on the floats threw sweets like they did in when attended carnival in Cologne, Germany a few years back. Just as I reached into my purse to get my camera, I got beaned by a waffle! And I collected enough for breakfast before writing this.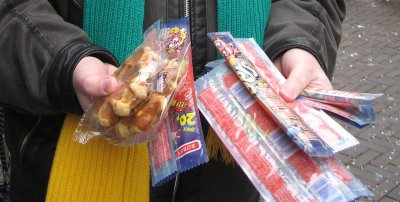 Eventually the children's carnival Prince, 'Martijn 1', showed up in full dress, waving to the crowd. From what I've learned, picking the carnival Prince is done by a serious carnival association and is chosen from different schools alternately. They also have princesses, it is done months in advance and is kept secret until the very last minute, a very dear tradition in these parts.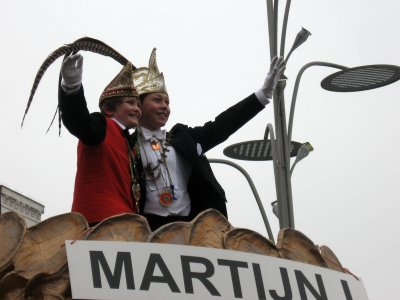 Has the tradition changed over the years? Well, I'm sure some things have, but a few things have definitely remained the same according to a former junior carnival Prince, vintage 1981.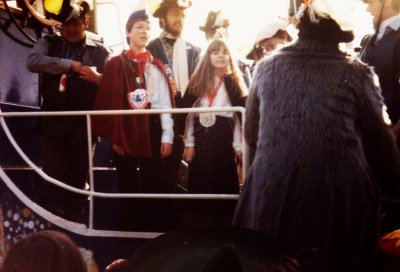 Notice the ship-like float the junior carnival Prince and Princess were standing on here back in 1981? Well, they still use it today, the Blauw Sjuut in local dialect.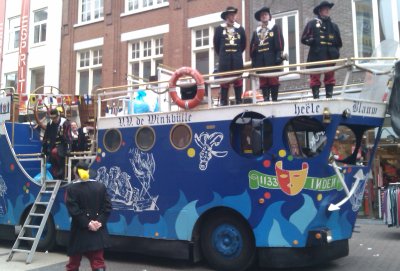 1 Comment »
[…] Natasha schreef voor haar website 24oranges.nl twee verslagen van onze uitstapjes: Children's carnival parade in Heerlen (inderdaad, inclusief een foto van mij als Prins uit 1981) en Carnival parade in Sittard, the […]

Pingback by Marco Kalnenek / Blog » Carnaval 2011 — March 8, 2011 @ 11:19 am