Van Deyssel's beautifully indecent book, or: how to return a compliment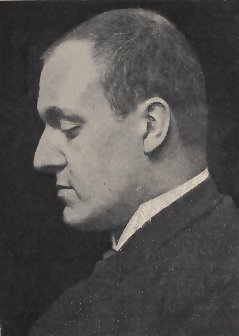 Albert Verwey wrote about Lodewijk van Deyssel's 1887 novel Een Liefde (A Love), considered pornographic at the time:
Van Deyssel's novel has two qualities. It is beautiful and it is indecent. Because of its indecency, it is either being ignored or called names—in turn I want to praise it for its beauty. That novel is like a person who knocks at a door, the door of literature. Some pretend they do not hear the knock. Others say: "go away, you are indecent." Now I am going to say: "Enter, because you are beautiful."
Van Deyssel knew how to take a compliment, and replied:
I often read your brochure about Een Liefde. Just as a person can form a judgment about students' abilities by letting them write an essay about the same subject, so you can see the clearest how people rank as far as the greatness of their minds are concerned by seeing how they speak about the same thing. And here now is the order, I think: De Beer, Van Hall, Rössing, De Koo, Van Eeden, Kloos, Verwey. Your insight stands over me, if not like a cheese cover over a fly, than at least like the Paleis van Volksvlijt over its organ. You have grabbed me and I cannot break loose or leave, the way a boy grabs a cat by its neck and shows it to some people.

You probably haven't given that brochure a second thought since, but for me it is a wonderful companion. It lies across me on a sofa, when I am writing, and during the many times I feel like a miserable incompetent, I get up and read from your brochure to pick myself up again. The start is already very good. Take just this little sentence, for instance: "Now I am going to say: »Enter, because you are beautiful.«" I find that touching, when I say it slowly: "Enter, because you are beautiful," it moves me. There is an enormous feeling in there, I am not sure what exactly, it suggest things like a father who would forgive his daughter, a criminal daughter, and who would say, enter, because you are beautiful, or perhaps not that, or not exactly, I don't know, but I think that little sentence is something delightful.

My novel has been a courtesan last winter, approached by many. A stable boy walked by whistling and threw horse figs, that was De Beer. A harlequin made faces at her, and slapped his buttocks with his back to her—that was Rössing. A notary put on a serious face and tugged his nose—that was Van Hall. A jolly sugar daddy kept her for a while, made love to her for a second, and paid her well—that was De Koo. A prominent woman drove by her in a fancy coach, looked at her through her eye glass, and observed: "That woman is not ugly." That was Van Eeden. A small sister from her parental home bragged: "we are from under the same roof, ya hear?" That was Netscher. A duke had supper with her and served her fine wines—that was Kloos. And a king built a great palace, opened its doors wide and from its marble hallway full of flowers and green and golden chandeliers said, when she passed: "enter, because you are beautiful."

That is something for her to never forget, and when she is standing in front of the mirror, she puts on a necklace the king gave her, puts flowers from his garden in her hair, and had she felt miserable before, even if just for a moment, she will come back to life and will say to herself: "after all, I am beautiful, he said so, and I will be famous for ever, because that great king loved me an entire day."
I came across Een Liefde in the garbage last Sunday, oddly enough when coming home from a rather unsuccesfull trip to a book market, and took it home with me to scan for Project Gutenberg. The correspondence quoted above was included in the modern afterword. It can also be found at DBNL.org (Dutch).
Perhaps the text smacks of a mutual admiration society. But the rest of the afterword pretty much exclusively deals with the problems Van Deyssel and his publisher got into because of his novel, and so, knowing how dearly bought the compliments were, I find this exchange rather beguiling.
(Photo of Van Deyssel by the painter G.H. Breitner.)
2 Comments »
It's not often that I hear about Van Deyssel anymore. That used to be different. My father wrote his dissertation (668 pages Polak en van Gennip) about his correspondence with Louis Couperus and my godfather became his protegé, inherited his archive and wrote about him ever since. With some googling I'm sure you can find their names.
Me? I've never read a word by the man. My shrink can probably explain that.

Comment by mare — June 18, 2009 @ 3:43 pm

[…] Alberdingk Thijm published under the name Lodewijk van Deyssel. His Een liefde (A Love) was considered pornographic at the time, and its reception was mixed. […]

Pingback by 24 oranges » Van Deyssel had his staff read out his phone calls — March 5, 2011 @ 3:04 pm