Eight nest cams in the Netherlands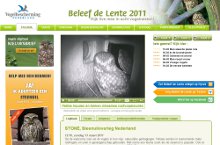 Vogelbescherming Nederland (the Dutch bird protection society) has set up web cams in and near 8 different bird nests. This spring you can watch two types of owl, a pair of storks, barn swallows, kingfishers, nuthatches, a pair of herons and a couple of peregrine falcons in the privacy of their homes while they try and raise their kids.
Each nest sports several cameras. You can also watch the favourite clips of the site's moderators. Four of the bird types are on the red list, which means the birds are endangered.
Link: Holly Moors.