What Louis Vuitton does not want you to know about Darfur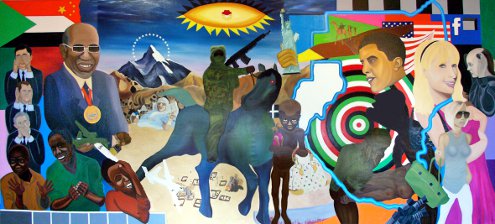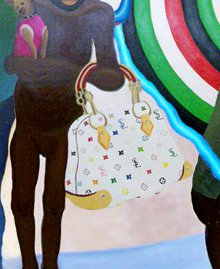 French bag maker Louis Vuitton has gotten itself a so-called ex parte judgement against Amsterdam based Danish artist Nadia Plesner, forcing her to cough up 5000 euro per day or stop using images of Vuitton's Audra Bag.
Plesner had incorporated an image of the bag in her painting Darfurnica. On January 27 judge Hensen denied her the chance to defend herself in court, so that by the time she returned from a trip to Denmark she had already racked up tens of thousands of euro in fines. She will contest the judgement (PDF).
Plesner has already received a judgement against her for a similar 'offence' in France. Under Dutch copyright law she is unlikely to be found against, but this was a case about community design law, and I don't know if that law has free speech exceptions.
Vuitton's actions seem an obvious attempt to control the conversation about them. You cannot really blame a wild animal for being a wild animal, the fault lies clearly at the feet of the state giving it the means.
An ex-parte order is a travesty of justice. In order to obtain one you just shop at the judge without the other party getting a chance to defend themselves.
Judge Hensen is slowly building a reputation for issuing strange verdicts in intellectual property cases. In 2007 he/she/it concluded that legal downloading is illegal downloading (the case revolved around the question whether rights associations could collect money for illegal copies, which required a definition of illegal copies).
(Link: Trendbeheer. Photo: Nadia Plesner.)
5 Comments »