Looking through the Lookout Rabbit in Nijmegen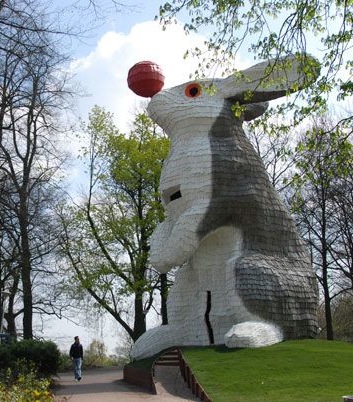 The Lookout Rabbit was made of concrete, sand, grass, metal, wood, paint and cement coating by Rotterdam artist Florentijn Hofman who has this thing for cute animals.
The Lookout Rabbit is a temporary 12-meter high sculpture. It's a rabbit with a red dot which you can enter and have a look out over the Waal river. The arwork is located at the Valkhofpark in Nijmegen and will stay put for at least six months.
There's even a making of the Lookout Rabbit.
(Link and photo: florentijnhofman.nl)
1 Comment »
[…] https://www.24oranges.nl/2011/04/12/looking-through-the-lookout-rabbit-in-nijmegen/ […]

Pingback by The oysters of Nijmegen danced the night away | Finding Oysters — December 24, 2013 @ 6:40 am