Spot the two main ingredients in these fruit drinks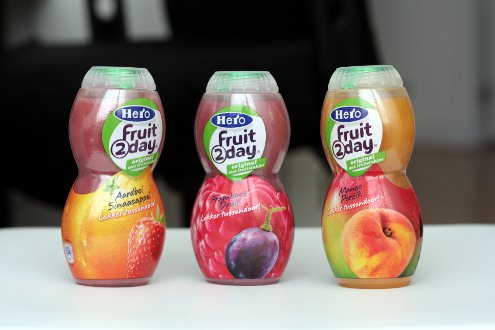 I don't often have the time to prepare breakfast, so I tend to end up taking a bottle of Fruit2day to the workplace. The manufacturer, Swiss company Hero, promises that these drinks contain all the fruit you need in a day. (The drinks also contain a quarter of all the sugar you need in a day, but the producer doesn't give that factoid as much prominence.)
Can you guess what the two main (fruit) ingredients of each drink are? Answers after the break. To get you started, the names of the drinks from left to right, when translated to English, are: "Strawberry Orange", "Raspberry Grape", and "Mango Peach".

The two main ingredients of the "Strawberry Orange" drink are: grape, strawberry (banana)
The two main ingredients of the "Raspberry Grape" drink are: apple, mango (peach)
The two main ingredients of the "Mango Peach" drink are: apple, banana (pear)
The bottle divides the ingredients into juices, purées and parts. I've mentioned the leaders of each category, and the parenthesized fruit is the leader that made up the smallest percentage (among the leaders) of the drink.
When Hero wanted to export Fruit2day to the USA in 2009, Jan van Iperen at The Juice Herald wrote:
Personally, I find this kind of packaging misleading as there is too much focus on just 2 fruit ingredients, while these (in some cases, just follow the order in which they appear on the label) are not even the MAIN ingredients.