One in five Dutch men would like to own a gun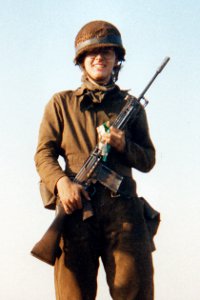 Maybe that title should be: popular science magazine sees women as second-class citizens whose opinions need not be known. The magazine, called Kijk (Look), asked over 1,700 'respondents' if they would like to own a gun if such a thing were legal in the Netherlands, and 16% of the men said yes.
Possible gun lovers lurk both in cities and in the country, and are both high income and low income earners, according to Kijk. Preferences do follow political divisions, though. Christian democrats could not care less about owning guns, only 6% of them would want to. Of the extreme right wingers of the PVV on the other hand 29% feel they need to be packing in order to feel safe.
(Photo: one of the few times that I ever wore a helmet. I had long flowing hair back when I was performing my military service, so I tried to avoid wearing my helmet. The gun, by the way, was a FN FAL, just shortly before they were replaced army-wide by Diemaco C7s.)
2 Comments »
[…] One in six Dutch men would like to own a gun […]

Pingback by One in 5.5 Dutch Men Needs to Work on his Fractions | An American In Amsterdam — April 19, 2011 @ 7:56 pm

I live in the middle of the USA in the state of Iowa. It's "the back of beyond" according to a friend who lives in Utrecht.

In that environment I can honestly say I don't know a single adult male that does not own a firearm.

Comment by Robert — April 20, 2011 @ 1:22 am