Stork shorts North Eastern grid, survives with burns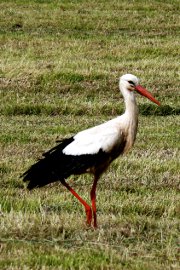 Radio Netherlands reports:
A stork building its nest in an electricity substation caused a power failure in the south of the province of Drenthe and the north of the province of Overijssel on Sunday. […] About 60,000 homes were left without power for a brief period. The stork reportedly fell on one of the transformers in the substation, causing it to short-circuit. The nest caught fire. The stork sustained burns but survived the accident.
According to De Telegraaf, Dutch Rail has 'adopted' the stork. The company will donate 1000 euros to 'stork station' De Lokkerij, where the animal is recovering currently. The paper calls the stork Fikkie, which is a pet name for dogs, but also means 'fire'.
(Photo by Hidde de Vries, some rights reserved)
No Comments »
No comments yet.