Rotterdam plans to give away free bikes from stash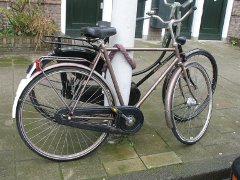 The city of Rotterdam is currently looking into the possibility of giving people whose bikes were stolen a new bike — well no, 'another' bike, one that was 'towed away'. Illegally parked bikes (yes, if you park it in the wrong place because the racks are too full or whatever, the city takes them away) are to be re-used and given to people who had their bikes stolen.
The odd reason behind this move is to encourage bike use (do we really need to do that?) and help out the 'victims' of theft. Very nice spin, PR people. The goal is actually to do something with all the bikes not picked up by their owners taking up space in some Rotterdam city depot somewhere.
Don't people whose bikes were stolen just grab, steal, borrow or use another one? How many stories have I heard about how time-consuming and complicated it is to find out where your bike was 'impounded', never mind having to pay like 50 euro to get it back? What if I had my bike stolen in, let's say, Gouda, and I needed a new bike?
Shame on you media for buying into this 'let's make Rotterdam a less scary place to live in' when it was crowned for the fifth time most dangerous Dutch city to live in. Your Dutch city really goes downhill when you actually need PR to encourage bike use in one of the most bike-friendly countries in the world.
(Link: blikopnieuws)