Two insects die on license plate every 10 kilometres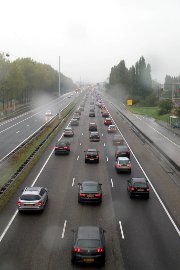 An ongoing study by the University of Wageningen has registered 17,000 insects splattered on license plates so far. The researchers made use of 250 volunteer car drivers who counted the number of dead bugs on their plates during 385 trips, De Pers reports today.
Drivers sent in their reports through the website splashteller.nl. Trips that started or ended in the provinces of Groningen, Friesland and Zeeland yielded the most dead insects, whereas Gelderland turned out to have the smallest number of dead bugs.
In total 133 billion insects die on cars every month, though not just on license plates. Train locomotives are pretty much covered in them.
(Link: www.natuurbericht.nl)