Huge Dutch bunny art invades Sweden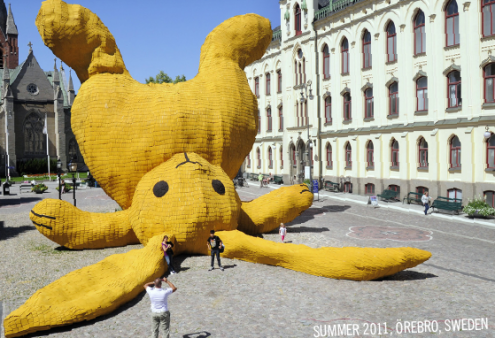 Rotterdam artist Florentijn Hofman has shared with us [Designboom] images of 'stor gul kanin' (big yellow rabbit), his newest large-scale sculpture for this summer's Openart Biennale in Öreboro, Sweden. Challenging the function and purpose of the public space, the 13-metre high installation explores the notion of scale and urban perspective by providing a new focal point in the open square.

Made out of locally-manufactured shingles and a wooden armature, the temporary sculpture depicts a giant plush rabbit that has been seemingly dropped into the centre of the Swedish plaza.
(Link: designboom.com, Photo by Florentijn Hofman)
1 Comment »
[…] artist Florentijn Hofman, the guy who brought us the big cute ducks, big bunnies in Sweden and in Nijmegen, and much more greatness, just finished a show in Angers, France with giant slugs […]

Pingback by 24 oranges » Big slow slugs in France by Florentijn Hofman — September 26, 2012 @ 5:18 pm