Big slow slugs in France by Florentijn Hofman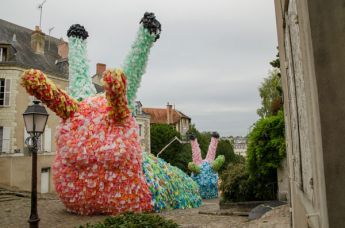 Rotterdam artist Florentijn Hofman, the guy who brought us the big cute ducks, big bunnies in Sweden and in Nijmegen, and much more greatness, just finished a show in Angers, France with giant slugs made of plastic bags (slideshow).
The work is made out of 40.000 plastic bags that move in the wind. The slugs are ascending this steep city staircase that leads up to a huge Catholic church, essentially signifying their slow crawl towards death. The work reminds us of religion, mortality, natural decay and the slow suffocation of commercialized societies.
(Link: www.designboom.com, photo florentijnhofman.nl)