Laura is not hitting the books anymore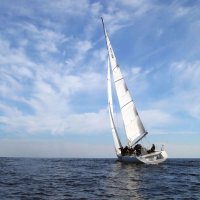 Following Laura Dekker's voyage as we have been, we left off recently with "still no word on if she has ever touched her homework.". A report on her birthday today says that she just doesn't have time to study. She had started to study at the beginning of her one-year sail around the world, but gave that up quickly enough.
One of the legal conditions on which she would be allowed to sail solo was that she do homework. She doesn't plan to stop studying altogether, but I can totally imagine that repairing and replenishing her boat comes first.
The Dutch authorities can only wave their finger Dutch uncle style about her not studying, as her studies are her parents' responsibility. And after the whole mess of a legal situation Laura got into with the authorities and her parents, she gave up being Dutch and relied on her dual citizenship with her country of birth, New Zealand.
Mark my words, if and when she completes this amazing feat, we'll be playing 'Zoek de Nederlander' ('Find the Dutch person') soon enough. In Laura's case it will be a game that consists of constantly dissing a Dutch person in the media and then ignoring all the bad things and claim her victory as a Dutch one.
Follow Laura's tweets on @laura_and_Guppy (Guppy is the name of her sailboat)
See also all our stories about Laura Dekker .
(Link: rnw.nl)
(Photo of an entirely unrelated boat by the US Navy)