Laura Dekker hounded by Dutch officials about school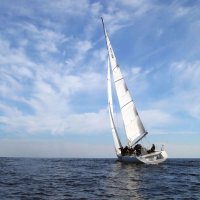 Just as Laura Dekker is coming closer to being the youngest person sailing solo around the world, the
compulsory schooling bureaucrats have turned up the heat on the fact that she's not handing in her homework. Her lawyer and even the Minister of Education has said that Laura does not have to go to school in Netherlands as she signed herself out the local registry.
What the bureaucrats have managed to do is make the teenager hate the Netherlands so much that she has no trust in the Dutch government whatsoever. She's now flying with a New Zealand flag on her boat and does not want to live in the Netherlands anymore.
In about two weeks, she will arrive on the island of Sint Maarten, a Dutch island, and achieve her goal.
Will some petty bureaucrats ruin her party because they couldn't take down a teenage girl with that much will power? Stay tuned! My money's on Laura. She'll show those losers what a real hero looks like and surely has the intelligence to go and study on her own terms eventually.
(Link: www.depers.nl, Photo of an entirely unrelated boat by the US Navy)