Asparagus most popular vegetable among the Dutch, French beans second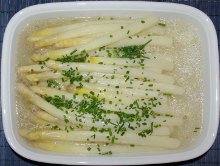 Radio show Vroege Vogels (Early Birds) held a vegetable popularity contest during the Week of the Vegetarian restaurant which ran from October 3 through October 9.
Perhaps surprisingly the top four comprises, in the following order, the asparagus, the French bean, chicory and Brussels sprouts (asperge, sperzieboon, witlof and spruitje in Dutch).
In total more than 30,000 votes were cast for 62 vegetables, the show's website reports. Asparagus and the French bean finished 42 votes apart, the former receiving 1873 votes. Traditionally asparagus is eaten white in the Netherlands. Since the plant starts turning green the moment it breaks through the surface, it is grown in long mounds and dug out as soon as it cracks the top of its bed.
See the Dutch vegetable top 40 of 2011.
(Photo by Wikipedia user Janericloebe who released it into the public domain)