Mobile restaurant modelled after apple crates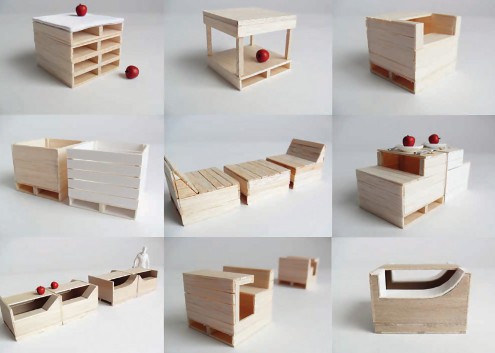 One of this year's Eindhoven Design Academy's graduation projects was Ardie van Bommel's Pure Nature.
The project consists of a group of tables, chairs and kitchen islands that were all made to look like they were made out of apple crates. Van Bommel originally wanted to use actual apple crates, but that approach did not lead to the desired results, Man and Public Space Magazine wrote.
Van Bommel even made, it seems, a diorama of her apple crate restaurant inside—you guessed it—an apple crate. Her website suggests that this restaurant was made for the Philips Fruittuin (a former job creation project initiated by the local electronics giant), although it's not clear to me whether the set-up has ever been in actual use.
Via the Pop-Up City which has been running a series showcasing "ten great designs spotted at the Design Academy's graduation show".
See also: Mirrors that look like holes in the wall and other Eindhoven Design Academy graduation projects.
(Photo: ontwerpstudiobomm.nl)