Jos Verstappen's temper allegedly flares up again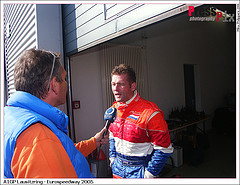 He was the darling of the F1 racing world here in the 1990s because he was Dutch and talented. He was also the best weapon I had to get my Dutch friends to glue themselves in front of the TV on a Sunday while I was watching Jacques Villeneuve pull his own variety of stunts.
The rumours had started back then as well, about Jos Verstappen's temper. He was accused of harassing and assaulting his Belgian wife at the time, ex-kart driver Sophie Kumpen. In the end, the judge only chose to punish him for sending threatening text messages and violating an existing restraining order. Last time I checked, a restraining order does look a lot like a red flag. There was something about slashing the tyres of her car as well.
A 24-year-old woman from Roermond, Limburg has recently filed a report with the police of a 39-year-old man from nearby Maaseik who attacked her at a hotel after a party. Since the police wouldn't say who it was, the press is assuming it is Jos Verstappen, although the racing driver told the press everything is fine with him and his girlfriend.
There's also an incident when Verstappen and his father 'assaulted' a photographer (a man) who ended up with a fractured skull at a karting event. They both got five-year suspended sentences after reaching an out-of court settlement.
(Links: www.limburger.nl, www.duemotori.com) Photo of Jos Verstappen by Mike Philippens, some rights reserved)
1 Comment »
[…] sounded like an 'Oh dear, Jos Verstappen got mad again flair up, has now turned into running down his ex girlfriend with a […]

Pingback by 24 oranges » Verstappen pulls a pit stop and runs down ex — January 5, 2012 @ 12:19 pm