Verstappen pulls a pit stop and runs down ex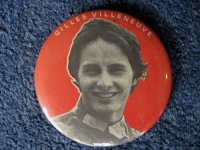 What sounded like an 'Oh dear, Jos Verstappen got mad again flair up, has now turned into running down his ex girlfriend with a car.
Once the pride of Limburg in Formula 1 racing 'Jos the Boss' has now become just another abusive partner and criminal in many people's eyes. According to the woman's story, she jumped out of his car at a filling station and he drove after her, hitting her with his car on her side. She only had scraped and bruises, which even scares me as a I write this. He then drove her home and made the textbook profuse apologies, begging her not to call the police. Once she was home, she eventually called the police, and he's been arrested.
Having compared Limburg to Québec where I come from in a PechaKucha presentation in Maastricht, I can tell you that Gilles Villeneuve (here above), Québec's first F1 race car driver did some really weird and dangerous stuff on the track, but not to his loved ones.
Epic and pathetic fail, Jos.
(Link: limburger.nl)
1 Comment »
[…] in January, former F1 driver Jos Verstappen pulled a pit stop and ran down his ex, and got arrested. Lucky him, he got away with yet another act of violence on a […]

Pingback by 24 oranges » Verstappen gets away with running down his ex — August 28, 2012 @ 5:01 pm