Musician buys old violin at flea market worth thousands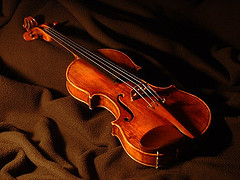 Gypsy musician Tata Mirando from Arnhem, aka Djangela Mirando (you may all know his family, the Mirando gypsy family), recently bought a violin for 50 euro at flea market in Den Bosch worth about 100,000 euro.
An elderly woman sold the violin, which was part of the collection of her departed husband. For his money Mirando also got a bag full of sheet music which contained a certificate of authenticity of the violin, stating that it was a Giuseppe Guadagnini from 1801. Mirando thinks the violin is worth less and says it does need to be fixed up.
Here's what the Mirando clan sounds like in a restaurant in Epe, Gelderland
(Link: www.ed.nl, Photo of Carlo Antonio Testore violin, Milan, 1738 by Jason Hollinger, some rights reserved)
2 Comments »
[…] Two looks at a new study about the famously superior sound of Stradivarius violins: Jennifer Ouellette (Cocktail Party Physics): "Anatomy of a Stradivarius." [BONUS (Jan 3):Â Musician buys old violin at flea market worth thousands.] […]

Pingback by Improbable Research » Blog Archive » Plausible: Sounds & Shoes & Skirts (Stradivarius) — January 3, 2012 @ 7:02 pm

wow! read a lot about flea markets on holland.net but seriously a violin? that;s awesome!

Comment by alterEgo — January 6, 2012 @ 3:48 pm